Prime Patio & Landscape will design your landscape oasis from the ground up. Ordinary lawns are transformed into beautiful outdoor spaces. Your yard will be the talk of the neighborhood and you will smile every time you pull onto your street. Prime offers a plethora of landscape design services.
* Digital rendering of the design concept.
 From basic flora, to elaborate landscape planting design, to trees, shrubs and vegetables gardens, mosquito misting systems, even putting greens, as well as stone accents, sod and rock installation, stone walls and terraced garden walls, we are a comprehensive landscape design company.
Do you have a project in mind? Let Prime design something spectacular to suit your landscaping needs. Whether large or small, a new construction or re-model, we can do it for you!
Prime specializes in seasonal color selections, adhering to specific flower patterns and placement – keeping your yard beautiful year round. Our landscape experts evaluate plant placement from every angle. For instance, how shade from existing trees will affect plant selection, structure and pond placement, or activity areas? Do you need protection or privacy in your front or back yard? How about using shrubs, plants or trees to enhance or block out certain views, even block out noise? No design factor goes overlooked.
What about turf? This is often an indispensable element to creating space and visual interest in the landscape design process. From low-maintenance, eco-friendly artificial turf to hearty, drought tolerant live grass, Prime is your source for all of your turf needs. 
We use only the highest quality Palisades Zoysia turf, engineered to stay green most of the year, drought tolerant, comfortable on your feet, and durable for active family lawns.
It's landscape design at its Prime!
Tastefully designed. Low-maintenance. Head-turning.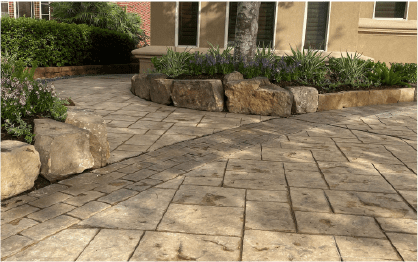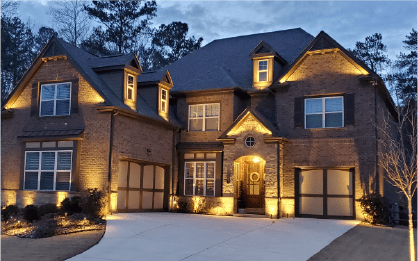 Installation & Maintenance

"I've had various landscape companies do work over the last thirty years. This is the only time where I have been impressed from start to finish. Not just impressed, but incredibly impressed. A major transformation at a reasonable price but with an incredible amount of knowledge and experience behind it. I couldn't recommend Prime Patio & Landscape more."
"I just did business with Matt and his crew at Prime Patio & Landscape for the first time. I was very I'm pressed by the overall professionalism of Matt, who came to the initial consultation, and then supervised and participated in the extensive work that we had done on our irrigation system. They also took care of an additional, unexpected major issue that came up during the job as the result of another company's shortcut. We have several other Landscaping projects that we will be doing at the house and will definitely be calling on Prime Patio & Landscape. Top notch!"