Prime offers a warm welcome, because in the design business lighting really is everything. The beauty and ambiance of your home and yard are truly transformed with strategically-placed outdoor lighting.
Beautiful brickwork and window details are brilliantly showcased with low-and-high-voltage exterior lighting. Natural, copper patina, garden path lights delight your front-door walkway and balance surrounding shrubbery. LED fixtures illuminate your well-manicured garden, while saving power and money. Ambient light fixture lenses create a soft effect around your pool and spa, enabling safe evening use without eliminating privacy. Your outdoor patio is flanked by illuminated trees and flowers while motion-detected floodlights offer great protection for your property. A backyard pond shares a mystical glow with recessed underwater lighting.
Prime specializes in architectural and outdoor lighting that is practical without sacrificing the evening atmosphere. We guarantee that your outdoor lighting design will be unique and tailored to your landscaping needs. We only use the highest-quality fixtures and ensure proper installation with the industry's best warranty. Our Prime experts are your exterior outdoor lighting professionals. 
It's lighting innovation at its Prime.
Tastefully designed. Low-maintenance. Head-turning.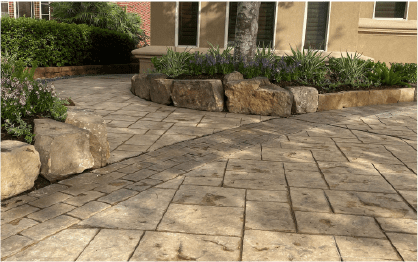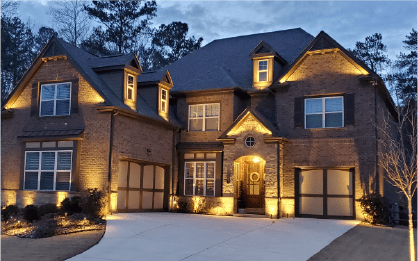 Installation & Maintenance

"I've had various landscape companies do work over the last thirty years. This is the only time where I have been impressed from start to finish. Not just impressed, but incredibly impressed. A major transformation at a reasonable price but with an incredible amount of knowledge and experience behind it. I couldn't recommend Prime Patio & Landscape more."
"I just did business with Matt and his crew at Prime Patio & Landscape for the first time. I was very I'm pressed by the overall professionalism of Matt, who came to the initial consultation, and then supervised and participated in the extensive work that we had done on our irrigation system. They also took care of an additional, unexpected major issue that came up during the job as the result of another company's shortcut. We have several other Landscaping projects that we will be doing at the house and will definitely be calling on Prime Patio & Landscape. Top notch!"