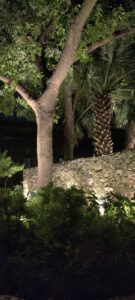 Enhance the beauty of your property: Outdoor landscape lighting adds an extra dimension and depth to your home's outdoor decor by illuminating its features and creating a dramatic effect.
Increase safety and security: Lighting up the outside of your home makes it safer by increasing visibility and deterring potential intruders.
Extend your living space: With an outdoor living area, you can enjoy the beauty of your home's surroundings even after the sun goes down.
Energy efficiency: LED outdoor landscape lighting uses less energy, lasts longer, and provides better light than traditional lighting.
Boost your property's value: Outdoor landscape lighting can increase the value of your home by making it more attractive to potential buyers.